Here we are, linking up with
Lauren
for our High Five for Friday!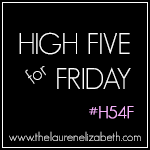 1. I have been cutting out laminated goodies like a mad fiend this week. Woot for fun new things for Niki's kid-o's and my tutoring girls.
2. Faith had her last two softball games last Wednesday night and did great! It was so nice to go watch as a family!
3. I , Shannon, went home for a day and had a little family bonding with the parents and little bro.
4. The big kids went to Skill School this week and Jayce and I got to spend tons of one-on-one time together. They all had a blast last night at Family Fun Night. I'm so glad we found such a great church for our kids too!
5. I (Niki) have been training for my 5K this weekend. I think I can finish it. I even went out for a late night run last night. I can make it 2 miles, and I'm hoping adrenaline will kick in and I can finish strong!
We are busy updating the planner and we will *hopefully* be posting about it this week! Be ready, it's pretty awesome!