Hello! We have had a crazy busy week, as always. Here is our High Five!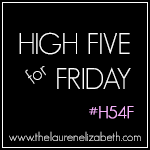 1. Niki completed TEACCH training this week to help her when working with students with Autism. It was a long 3 days, with tons of information and lots of good ideas to use in the classroom next year.
2. We are doing a giveaway with LindyLou! Go to her
blog
to find out more information and to be inspired!
3. The boys had their first t-ball game Sunday. Carter was a rockstar. Jayce, not so much. But he is only 3 1/2. I sometimes have too high of expectations for my children. :)
4. Niki and Shannon have both been applying for teaching jobs and to go back to school over the last couple weeks. It is very exciting and nerve-wracking! #backtoschool
5. Faith has been a rock star at softball. She plays coach-pitch and is really learning the game!
Check out
Lauren's blog
and see what everyone else was doing over the last week!