The holidays are a wonderful time of year. We can all agree on that right? But the after the holidays part is well not so great. I can't imagine that we are the only ones who came home with an overwhelming amount of new and wonderful things to find a home for. Our tiny apartment living room was already stuffed full with out Christmas tree then we added all of our new Christmas things and you could hardly walk through!
So to make room for all the new things I needed to do some serious purging, cleaning, and rearranging. And then in my email I found this little delight: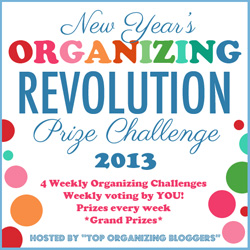 A wonderful way to get myself motivated to get things done right away!! So we, (or maybe just me?), are going to get our game faces on and get some serious new years cleaning done! hooray!
There are also some other new years projects going on our there in blogland. I'm sure we haven't found them all, but we are going to do our best to follow along with any that we find :)
Stay tuned to see what we can manage to accomplish! Have your own blog? Play along with us, or use pinterest to link up too!
And don't forget to check out our organize your new year sale in our
etsy shop
-- all of our home management binder documents are on sale plus a few other organizing documents. Our sale ends January 31st, so there's still time to get your order in!